... You Should Totally be Buying Instant Death Stuff. All the kids will think you're so cool ...
Bags, Mousepads, T-shirts, mugs, more...
Click here to shop for more INSTANT DEATH STUFF
Buy Instant Death Stuff
From Ween's bassist Dave Dreiwitz and drummer Scott Byrne
... otherwise known as Instant Death.
"New Evil Vibe" contains 27 shredding cuts in 1 neat package.
Produced and mixed by Andrew Weiss.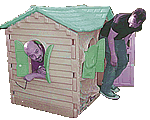 Donít forget to visit our guest house! You can also join Taste the Waste - the Music Forum below to discuss and find out insider info. on INSTANT DEATH, WEEN, INSIDIOUS RAYS, SOUND OF URCHIN and other great bands!Ē
Join TASTETHEWASTE